Bon appétit
Step 1
It's springtime! And what better time to invite friends over for dinner? Only one thing: our next craft tutorial. As always, there's a little shopping list for you to go along with it:
Paper napkins (it's best to use light-colored ones so your print is easy to see).
a few shrubs or favorite flowers
A4 paper sheets
mini clothespins
cutlery
decorative ribbon
COLOP e-mark create Ribbon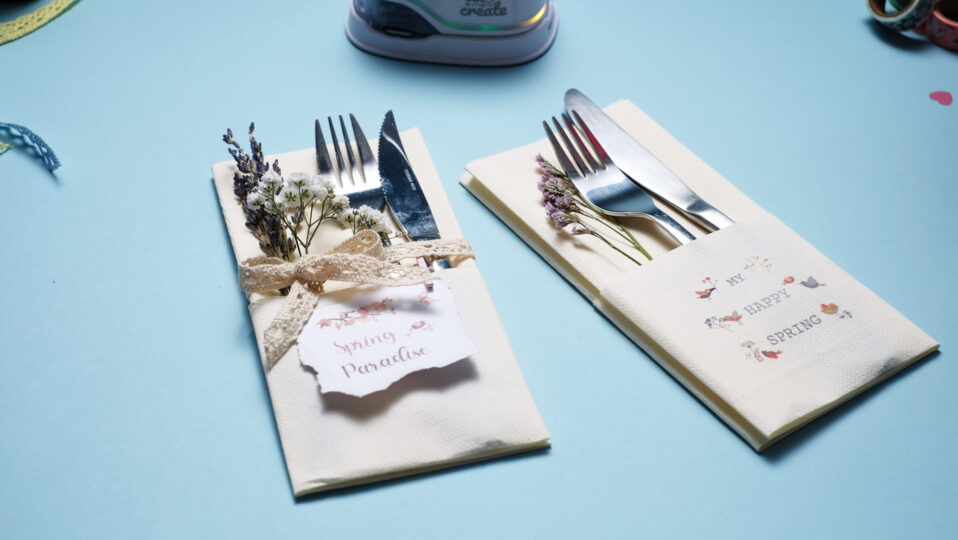 Step 2
In just a few steps, you can fold your napkins into fine cutlery bags. Follow these instructions:
In the first step, unfold the napkin completely. Fold the lower edge of the napkin, the side facing you to the middle and then turn it180°. Now fold the upper edge to the center as well. In the last step, fold the left side to the center and repeat this step 2x. Now you have a beautiful napkin for your cutlery.
You can also easily fold your napkins into smaller pockets. Open the napkin so that it is unfolded in front of you. Fold the bottom third up and then turn the napkin 180°. Then turn the napkin 90° and fold 1/3 of the napkin up again from the bottom, repeat this 2 more times. The result is a small napkin bag.
Step 3
After you have finished folding all your napkins, it's time to print. As always, you'll need your smartphone, our free COLOP e-mark create app, and your COLOP e-mark create. Then choose your favorite motif from our designs or simply upload your own. With a careful hand movement to the left or right, you print your design on an A4 paper. For advanced users: If you want, you can "tear" the piece of paper to a suitable size beforehand and print it afterwards.
Step 4
Now that everything is printed, place the printed tag at the bottom of the napkin and attach it with a small mini clip. Then just stick your favorite flowers like lavender or baby's breath into the napkin and don't forget the cutlery!
Step 5
If you like, you can decorate the napkins additionally. A decorative ribbon or our COLOP Ribbon are perfect to round off your DIY project.
Step 6
And of course you can also print on the napkin right away - it's easy and hassle-free. We wish you and your guests all the best – enjoy your meal!