Multi-colour printing
HP cartridge for up to 1,500 imprints
Print on absorbing surfaces
Barcodes, QR-codes, numbering & date
Up to 4 imprints on device
Continual printing
iOS & Android app
Windows software & printer driver
Compatible with Ribbon Station
Compatible with Multiline Printing Tool
Accessories & consumables available
Easy personalisation on the spot
Mobile printer for professionals
Use the e-mark in a wide variety of business areas: as an organisational or processing tool in the office, for labelling parcels and documents in logistics, as a marketing and sales instrument thanks to the simple personalisation option and much more. The e-mark combines many printers in one handy device: a label printer, a sign printer, a printer for ribbons, a card printer and a printer for direct printing on various surfaces.
How to use the e-mark
Download mobile app for iOS and Android or Windows software
Select existing imprint designs or create new designs
Connect the software to the e-mark (via Wi-Fi or USB for desktop)
Send the selected print to the printer
Apply the print with a simple sideways movement to the left or right
Hotel and Restaurant
In hotels, restaurants and bars the e-mark can be used to print welcome or VIP messages, to print price or food tags, to inform guests of any last minute changes to the day's schedules, to personalise serviettes as well as to print weather reports, luggage tags and Wi-Fi codes. It's the ultimate tool to make guests and visitors have a memorable experience.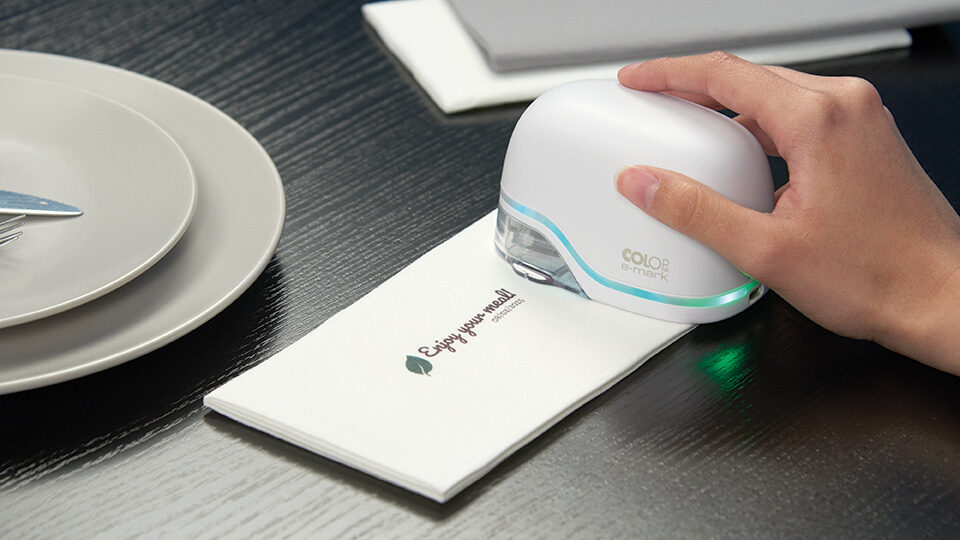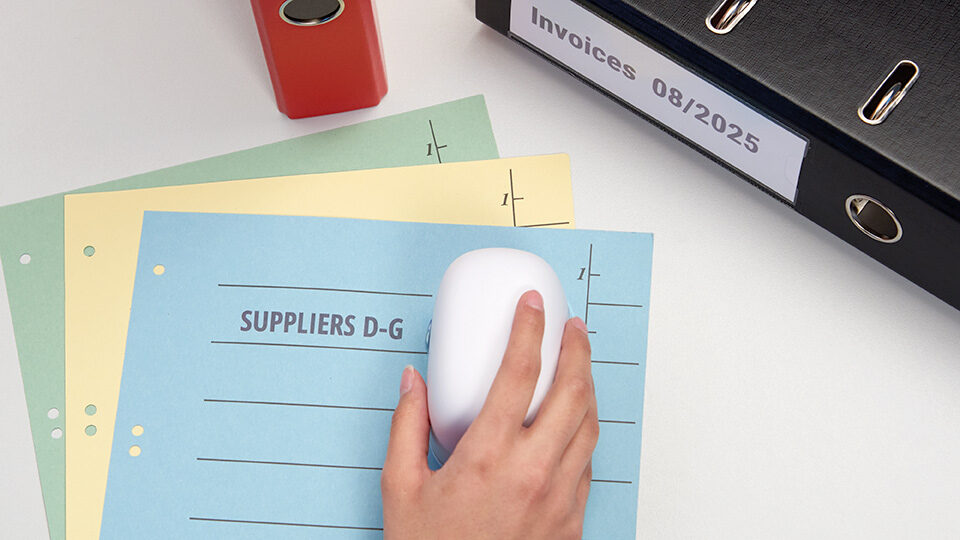 Office
The e-mark is a useful tool in offices and for organisational purposes. You can print directly on incoming and outgoing documents, print reminders, create an internal approval process, organise files and folders as well as efficiently carry out mail-outs to existing customers or potential customers with the serial printing function. An efficient all-in-one tool for offices in any industry.
Logistics and Numbering
Printing serial numbers, QR codes, barcodes and addresses is as easy as 1-2-3 with the e-mark numbering function, its QR and barcode generator and serial printing option. This makes the e-mark an ideal companion for logistics departments as well as any business, which would benefit from printing automated numbering quickly and efficiently.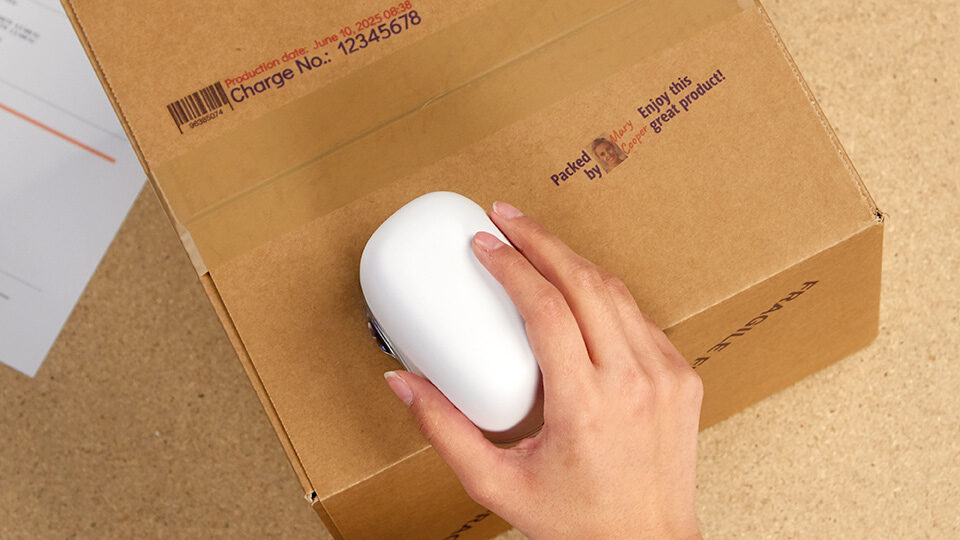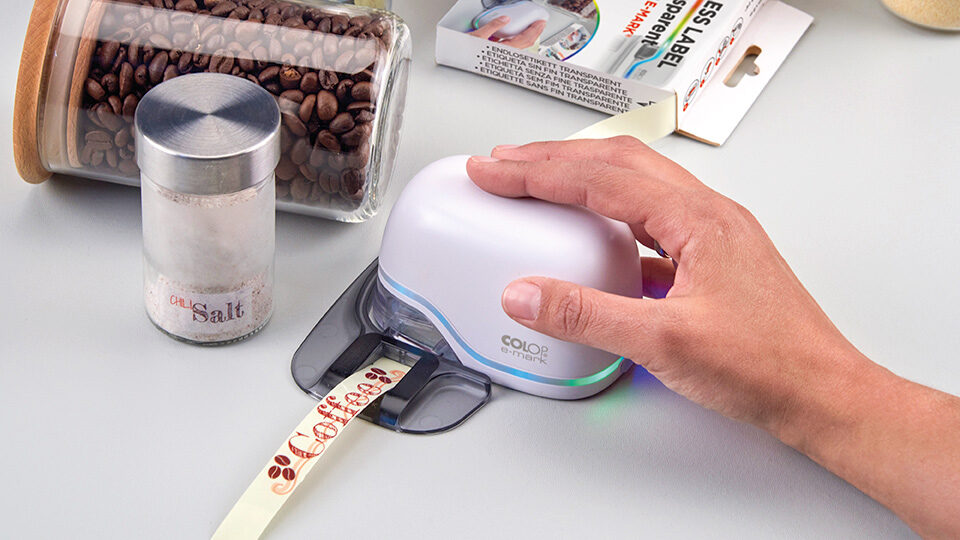 Label Maker
The e-mark is much more than a label-maker. In the app you can design your colour imprint, including logo, date and time, QR and bar codes and much more. Print labels for promotions or price details in retail shops, serial or bar codes for shelves in warehouses or address labels for packages. The e-mark Label Range is extensive, even offering iron-on textile labels.
Ribbon Maker
With the Ribbon Station the e-mark works like a professional roll printer. Whether you like to print a full roll or just a random number of imprints on your ribbon, the e-mark handles the need for individualisation, flexibility and efficiency in a unique and never seen way.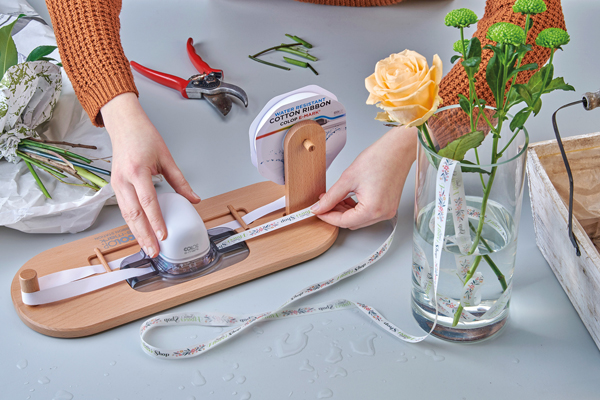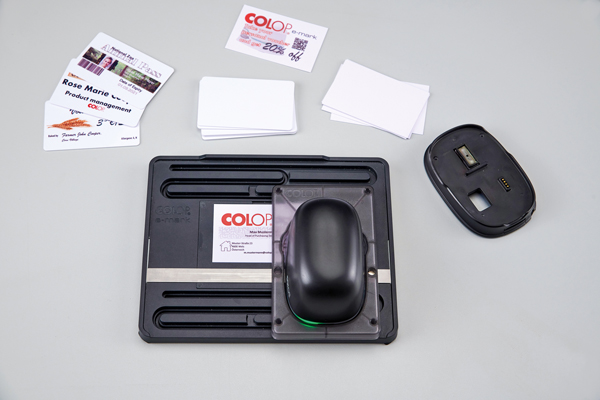 Card Maker
Whether price cards for the counter, personalised business cards, employee, visitor or member cards or annual tickets, with the Multiline Printing Tool card printing becomes flexible and easy.
Accessories & Consumables
Software
The e-mark can be controlled via a smartphone, tablet or Windows desktop PC. The mobile app is compatible with iOS and Android devices and is available for download from the respective store. In the software, you essentially have the option to create new imprint designs or select existing imprint designs and monitor the device status (battery level, ink level, Wi-Fi connection). The editor offers countless design options to create the perfect impression for any task. In addition to the usual design options (select fonts, colours and backgrounds, insert icons, enlarge, reduce, rotate etc.)., you can also upload your own fonts and graphics or images as .jpg or .png format. The QR code and barcode generator and the numbering and date function are e-mark-specific special features.
Furthermore, we offer our customers a free printer driver that can be installed on Windows PCs. This enables you to print single elements of a document directly from programmes such as Word. The e-mark can be selected via the printer settings, just like an ordinary desktop printer.
Instructions
All instructions and product data sheets for the accessories can be found in our Help Centre.
Templates
In addition to the pre-installed imprint designs in the software, we offer free motifs that can be downloaded from our homepage. These are divided into "accessory-specific" and "industry-specific" designs. The instructions on how to upload the new designs into the software are of course included.
Technical specifications
Create imprints with the free app for iOS, Android and software for Windows PCs
Ink cartridge C2: suitable for up to approx. 1,500 imprints; filled with special ink (CMY), which delivers reliably high and brilliant print quality from the very first impression even when used infrequently.
Maximum size of the imprint: height 14.5 mm and length 150 mm (5.9" x 0.57")
Maximum printing speed: 300 mm/s
Automatic date, time and numbering function
QR code and barcode generator
Ready-to-use imprint designs
Upload logos and images and print them easily (jpg or png)
Save up to four prints on the e-mark
High mobility and flexibility due to battery operation
Battery life of 5 hours (when printing continuously)
Battery: 11.1 V Li-Ion with min. 600 mAh (3 cells with 3.7 V each)
Data transfer: USB or Wi-Fi
Weight of the device without packaging: 224.5 g
Mobile multi-colour printing, directly on various absorbent surfaces
Inkjet, 600 dpi
Package contents: e-mark, ink cartridge, USB cable, power plug EU Type C, Quick Setup Guide
Questions & Answers
Which kind of colour/ink does the e-mark use?
The e-mark is based on inkjet technology. The standard ink cartridge is a 3-colour cartridge (CMY), which allows printing any colour combinations. It was especially developed by HP Inkjet Technology for mobile printing purposes. The e-mark can only be used with original COLOP e-mark cartridges. With one cartridge, you can print around 1,500 imprints. In addition to the standard cartridge, a Black Pigment ink and UV ink are available.
Which professional features are available for the e-mark?
The e-mark offers several professional features. In the app and Windows desktop version you will find an automatic date, time and numbering function, a serial printing function and a QR code and barcode generator. Besides, you can store up to 3 additional imprints on the e-mark permanently which can be printed without connection to the app. As a professional tool, the Card printing tool (multiline printing tool) helps to print professional cards in a standard format. The e-mark can also be used with the e-mark create app for more creative purposes.
Which materials can I print onto with the e-mark?
The e-mark can print directly on almost all absorbent surfaces. This includes different types of paper, cardboard, untreated wood, cork, fabric, and many more.
Can I create my own designs?
Yes, of course! In the e-mark app you can create your designs using own images, logos and texts. You can add further elements such as an automatic date, time and numbering element, QR code and barcode.
More information?
For more information visit our Help Centre!