Multi-colour printing
HP cartridge for up to 1,500 imprints
Print on absorbing surfaces
Continual printing
iOS and Android app
Windows software
Compatible with Ribbon station
Accessories & consumables available
Mobile printer for creatives
A world of Inspiration
Print directly and in full colour on almost any absorbent surface quickly and easily, like on different kinds of paper, cardboard, textiles, cork, stone, unglazed ceramics, untreated leather and many more. Colourful imprints, designed by just a few clicks in the mobile app or desktop software, make ordinary objects EXTRAordinary and individual. Surprise your friends and your family by easily adding creative imprints where they wouldn´t expect them. Create a WOW effect and make them smile.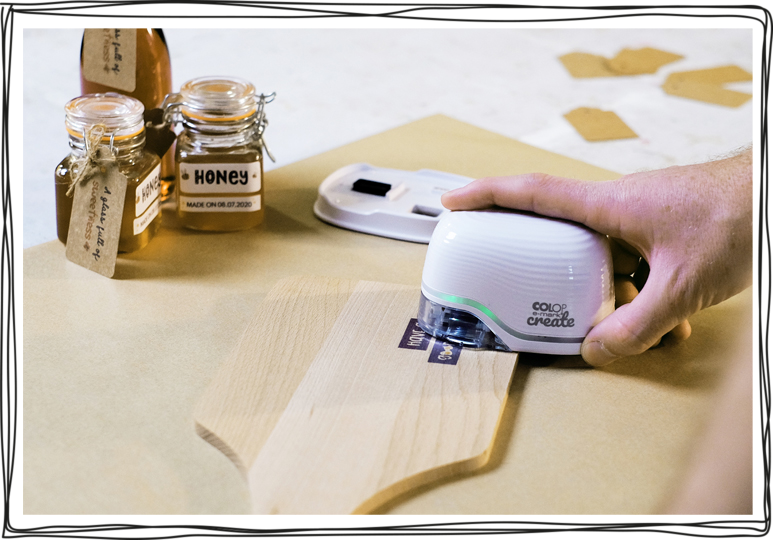 How to use the e-mark® create
Download and install the app or software
Design your own imprint or select from many predefined motifs
Connect your mobile device or PC with the e-mark create
Send the imprint to the mobile printer via Wi-Fi or USB
Print the art work instantly and in full colour on different materials by simply swiping the device to the right or left.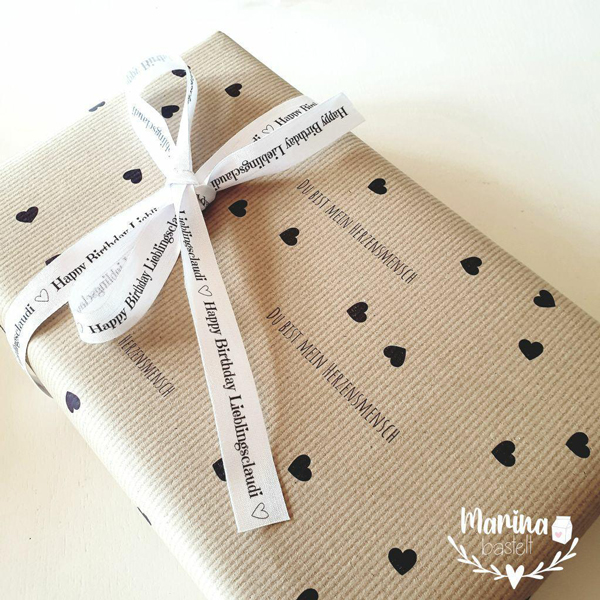 Making extraordinary gift packaging
If you want to please someone with a gift, then a lovely and creative packaging plays a big role. With the e-mark create, you can not only print on the wrapping paper, but also make individual cotton ribbons in seconds.
Printing beautiful tags
With the smart labelling device, you can conjure up creative tags, signs and labels. You can create beautiful motifs in the mobile app or desktop software, as @kathas.atelier has done here.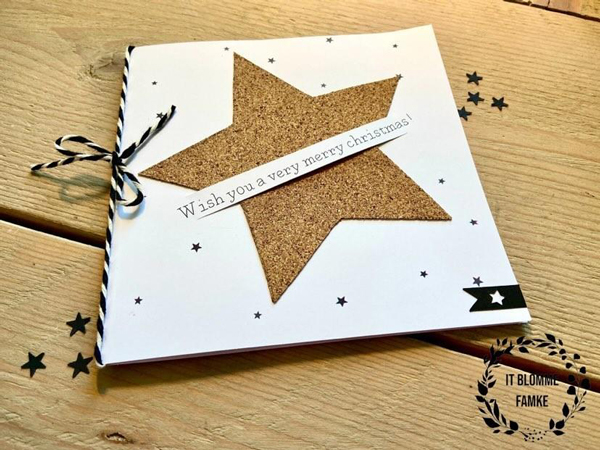 Making individual greeting cards
Special greeting cards have become expensive. Besides, anyone can buy them. Why not design a personal greeting card for a loved one yourself. @itblommefamke shows us how easy it is. Since you can print directly on almost all absorbent materials with the mini printer, there are no limits to your creativity when designing cards.
Personalising tote or paper bags
Are you tired of boring carrier bags made of fabric or paper? For that individual and special touch, why not print your carrier bags yourself? With our e-mark create labelling device, you can print on paper, textiles and many other absorbent surfaces in no time. If you want the print to be waterproof, it's best to use a fixing spray.
Accessories and Consumables
Software
The e-mark create is operated through the e-mark create app. Design your imprints directly in the app by adding images and texts or find numerous premade templates already in the app for immediate use. Send the artwork to your e-mark create and print it!
The e-mark create app is available for Android and iOS devices. You connect your e-mark via Wi-Fi and send imprints through that. Besides the e-mark create app for Android and iOS, we offer a Windows desktop software. It has the same functions as the mobile app. Imprints can be transferred to the e-mark create via Wi-Fi or USB.
Instructions
All instructions and product data sheets for the accessories can be found in our Help Centre.
Templates
In addition to the predefined templates in the app or desktop software, we offer many free imprint designs for various occasions or applications (Christmas, Spring, Bullet Journaling, Home etc.). A step by step guideline helps you to upload the designs into your app or desktop software.
Technical specifications
Create imprints with the free app for iOS, Android and software for Windows PCs
Ink cartridge C2: suitable for up to approx. 1,500 imprints; filled with special ink (CMY), which delivers reliably high and brilliant print quality from the very first impression even when used infrequently.
Maximum size of the imprint: height 14.5 mm and length 150 mm (5.9" x 0.57")
Maximum printing speed: 300 mm/s
Ready-to-use imprint designs
Upload logos and images and print them easily (jpg or png)
High mobility and flexibility due to battery operation
Battery life of 5 hours (when printing continuously)
Battery: 11.1 V Li-Ion with min. 600 mAh (3 cells with 3.7 V each)
Data transfer: USB or Wi-Fi
Weight of the device without packaging: 224.5 g
Mobile multi-colour printing, directly on various absorbent surfaces
Inkjet, 600 dpi
Package contents: e-mark, ink cartridge, USB cable, power plug EU Type C, Quick Setup Guide
Questions & Answers
Which materials can I print onto with the e-mark create?
The e-mark create can print directly on various absorbent surfaces. This includes different types of paper (printer paper, kraft paper, parchment paper, envelopes, paper stickers, napkins, paper bags,…), cardboard, untreated wood, cork, fabric (felt, cotton, linen,…), stone, unglazed ceramics and many more.
Which kind of colour/ink does the e-mark create use?
The e-mark is based on inkjet technology. The standard ink cartridge is a 3-colour cartridge (CMY), which allows printing any colour combinations. It was especially developed by HP Inkjet Technology for mobile printing purposes. The e-mark create can only be used with original COLOP e-mark cartridges. With one cartridge, you can print around 1,500 imprints. In addition to the standard cartridge, a Black Pigment ink and UV ink are available.
Where does the e-mark create start to print? How can I position it?
Markings on the sides of the e-mark create indicate the middle of the imprint and help to position the imprint in a predefined space. In the app, you can choose between lateral and centre starting position. The Ruler also helps greatly for positioning imprints.
How can I print on ribbons with the e-mark create?
Printing on ribbons is a great way to personalise gifts or decorations. With some settings in the app, you can repeat your imprint endlessly. Use the e-mark Ribbon Guide to print perfectly onto your ribbon. Beside the COLOP e-mark cotton ribbons, you can use your own ribbons, or, for a wet and damp environment, use our COLOP e-mark water-resistant ribbon.
More information?
For more information visit our Help Center!