Attractive Table Decoration – Print your own napkins
STEP 1 – Craft preparation
Easter is here! And what could be better than a big Easter breakfast with your best friends and family? To avoid putting your breakfast eggs in a boring egg cup, we'll show you how to decorate your Easter eggs beautifully in our next craft tutorial. As always, there's also a little shopping list for you:
White eggs
Cloth napkins in your favourite colours (make sure the colour is light enough!)
Food colouring pen
Natural string/lace
Small flowers (lavender, baby's breath, etc.)
COLOP e-mark ruler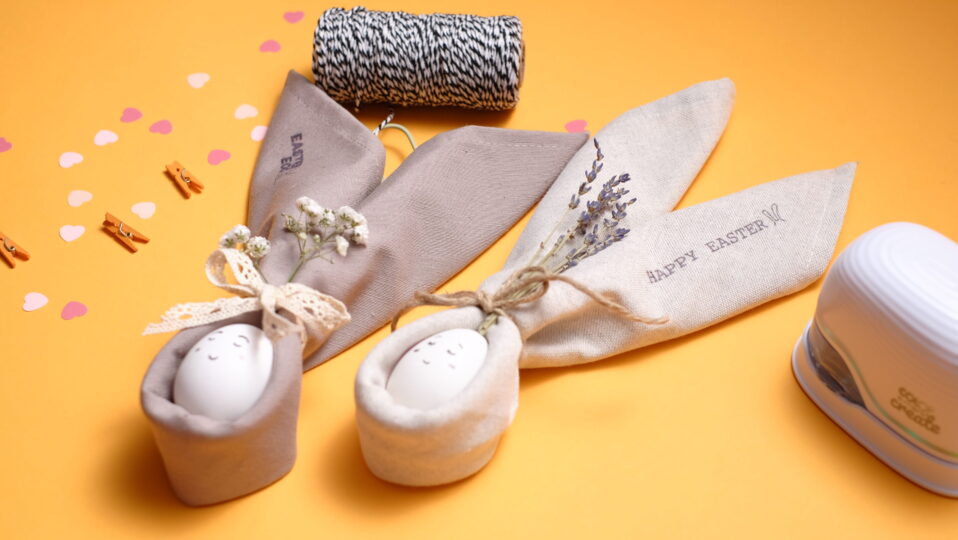 STEP 2 - Make a table decoration
Open your cloth napkin and fold it into a triangle. Place two corners on top of each other. Now roll up your triangle starting from the tip. Then fold your roll in half. Finally, tie a bow around it. This creates the little loop for the egg and the two bunny ears.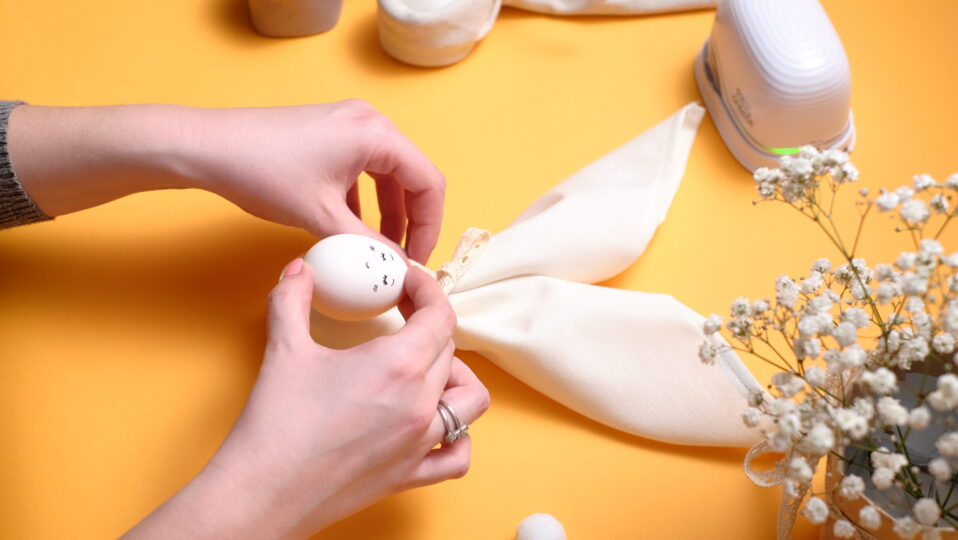 STEP 3 - Show your face
Take your egg and draw a cute face on it with your food colouring pen. Here you can let your creativity run free. You can choose the expression you want your little bunny to have and whether it should be a female or male face. Now place your painted egg in the napkin loop and you have created a cute little bunny!
STEP 4 - Choose a motif
After your napkin bunnies are ready, it's time to print them. But first you have to choose the motif. It's nice to print a personal Easter saying on the bunny ears for each of your guests. As always, you need your smartphone and our free COLOP e-mark create app. Then choose your favourite motif from our designs or upload your own. You can also download our Easter designs for free from our website.
With your chosen designs, you're sure to put a smile on your guests' faces!
STEP 5 – Printing on fabric
Now it's time to print! With a careful hand movement to the left or right, print the motif onto the bunny ears with your COLOP e-mark create. As the fabric napkin is usually not completely flat, printing is much easier with our COLOP ruler.
STEP 6 – Decorate the napkins
For the final touch, you can decorate your Easter bunnies with small spring flowers. The bunnies are a creative alternative to ordinary breakfast eggs and also make beautiful table decorations. They simply sweeten every Easter breakfast. We hope you have fun making them!