Professional printing of ribbon rolls with the COLOP e-mark Ribbon Station
Customised ribbons in no time with the new COLOP e-mark Ribbon Station
The brand new e-mark Ribbon Station transforms the e-mark into a professional roll printing system.
Due to the exchangeable Ribbon Guides (which are included in the package), ribbons with a width of 10 mm, 15 mm and 25 mm and endless labels can be printed on quickly and easily.
Even as part of a stationary tool, the e-mark doesn't lose its flexibility. The user can fully personalise the design of the ribbons or labels, set the exact print length and choose the number of labels desired.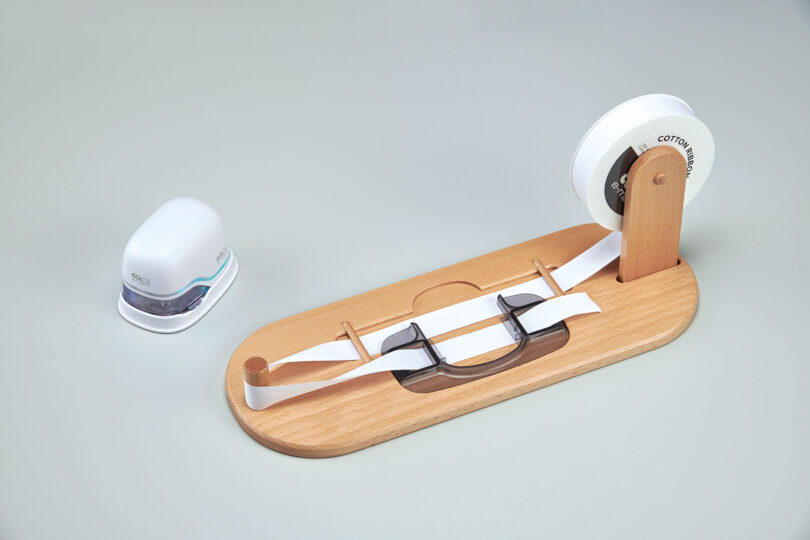 How does the Ribbon Station work?
Assembly
First of all, the Ribbon Station has to be assembled:
Put the roll holder into the opening
Put the screws into the predrilled holes and fasten them
Put the pin into the roll holder

Station Preparation
Next the Ribbon Station has to be prepared for printing:
Choose the size of ribbon you want to print on (10, 15 or 25 mm) or one of the endless labels (15 mm)
Put the roll on the roll holder and adjust the pin to fix the roll into place
Put the appropriate Ribbon Guide (to fit with your ribbon size) into its predefined space
Thread the ribbon or endless label under the horizontal wooden sticks, around the vertical wooden stick and through the Ribbon Guide.
Caution: When using the endless labels make sure the underside is facing upwards when threaded through the wooden sticks and the side to be printed on is facing upwards when threaded through the Ribbon Guide.
Finally, send the Ribbon Station imprint to the e-mark, put it into place and pull on the ribbon or endless label. The imprint is printed onto the material as long or often as you have defined in the app.
How are Ribbon Station imprints designed?
Ribbon Station imprints require special settings, therefore only templates in the category "Ribbon Station" are suitable.
1. Open the e-mark app -> new imprint -> Ribbon Station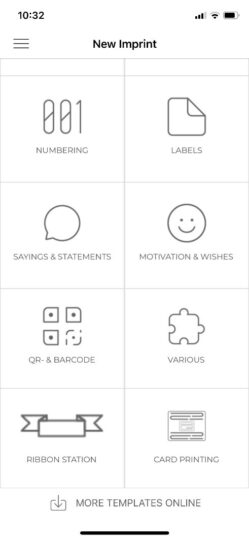 2. Choose a template and adjust it to your liking
3. Choose the printing option in the imprint settings in the editor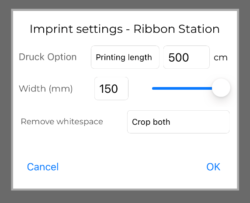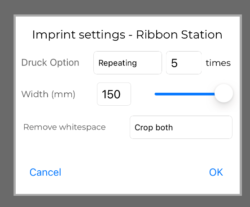 4. Save the imprint and then send it to the e-mark
Imprints created in the Ribbon Station category are marked "Ribbon Station" in the "My Imprints" section of the app.
What can you use the Ribbon Station for?
The Ribbon Station makes it is possible for the first time, to print a whole roll of ribbon in just a few minutes, wherever and whenever you need it. These fully customisable ribbons are printed in full colour and in high quality. The option to choose which length of ribbon to print on, adds a new level of customisation.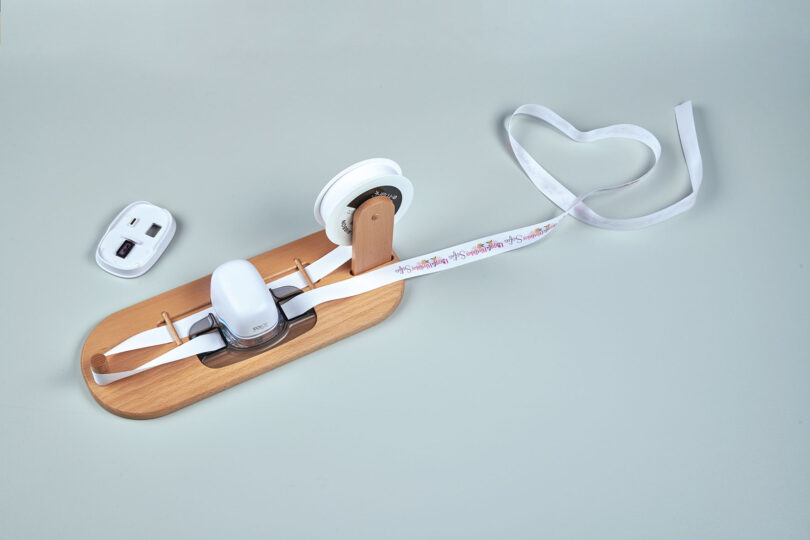 The possibility to decide how often the imprint is printed onto the roll of material comes in especially handy with the COLOP e-mark endless label range.
Templates
In the app a handful of templates are already provided which can be fully personalised and adapted to the user's needs.In the future there will be a template category especially for Ribbon Station templates on the website: