Crafty Weddings
Fabric flowers and decorations
Your wedding day is one of the happiest, most exciting days of your life, and whilst we know that getting married isn't the cheapest of occasions, it doesn't need to break the bank!
With a little bit of creativity, imagination and patience, you can have all of your wedding decorations, personalised stationery and much more at a fraction of the price.
How? By getting crafty!
With lots of couples looking for ways to save money on their big day, DIY wedding projects have become all the rage as soon-to-be Brides and Grooms spend hours scrolling through Pinterest for ideas and venture out to craft stores to stock up on supplies.
The new essential crafting companion
For those of you who like technology and want to add extra personalisation to your items – we have just the thing – introducing the COLOP e-mark create! A full colour mobile printer which fits in the palm of your hand and is operated using your mobile device.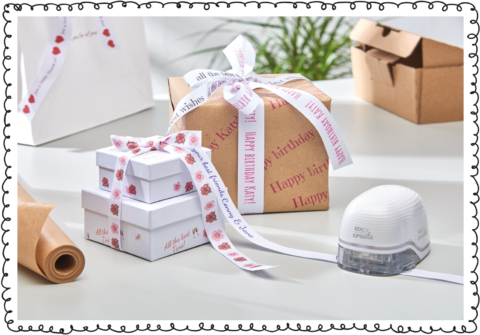 For the price of professionally printed stationery, you can not only create your own professionally looking personalised stationery, but much, much more. With it's own 2 way wifi it means that you can take it with you wherever you go. Compatible with Google Play and the App Store. With an easy to follow free to download App, you can literally create and print on the go using your mobile device.
We decided to put the e-mark Create to the test and see exactly what we could make using bits out of the bargain bin in our local craft store…
Fabric flowers
Fabric flowers are not only environmentally friendly, but ideal for those who suffer with allergies and last much longer than fresh flowers!
We had some strips of hessian/burlap, so decided to use the COLOP e-mark create to print some red roses on it from the emoji keyboard. We then took to YouTube and found this tutorial on how to make flowers.
After adding a couple of extra embellishments, this is our finished product!
These would be great, not only for the bouquets, but also button-holes, head bands for Flower Girls, corsages and table decorations too.
Hanging decorations
Depending on your venue, you might have the opportunity to add some of your own decorations to the walls, like bunting or floral displays.
Having already used the e-mark create to make the fabric flowers, we know that it prints brilliantly onto rough materials such as hessian, jute, and cross stitching aida, so making personalised traditional looking bunting would be a breeze.
Having found some crepe paper and a polystyrene ring, we tried our hand at making a wreath.
We used the e-mark create to print the words "Happy Ever After" with a love heart from the clipart library – using the continuous print function we were able to print the design across the crepe paper in one long line instead of making individual prints.
This is what we ended up with: