€198.90
incl. Tax

free shipping
delivery time 2 - 7 working days
Find a dealer close to you!
Multi-colour printing
HP cartridge for up to 1,500 imprints
Print on absorbing surfaces
Free, intuitive app for iOS and Android
LED light guide for ideal imprint positioning
One of the most compact devices on the market
Easy personalisation of device
Continual printing
Made in Austria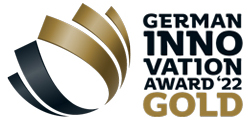 The mobile lifestyle printer
Let's go…let's print.
Multi-colour imprints on many different surfaces.
Both the printer and the e-mark go app were developed with the clear aim of offering an extremely intuitive and easy handling that, at the same time, allows for a maximum of creativity and individuality.
Based on inkjet technology, the e-mark go enables users to make multi-coloured imprints on almost any absorbent surface, such as paper, cardboard, cork, textiles, wood, stone, leather and many more surfaces. The creative companion, which fits in every handbag, is controlled via a new best-in-class e-mark go app in which individual motifs can be designed. Developed and produced in Austria, the e-mark go has already won the prestigious German Innovation Award 2022 in gold.
"Instead of inserting a sheet or paper, you simply place it on a surface. This makes it extraordinarily convenient to use and also creates completely new possibilities in its application. A practical tool for everyone that is easy to use and fits perfectly into the DIY trend", according to the jury's statement.
Helpful accessories and consumables complement a versatile printing all-arounder.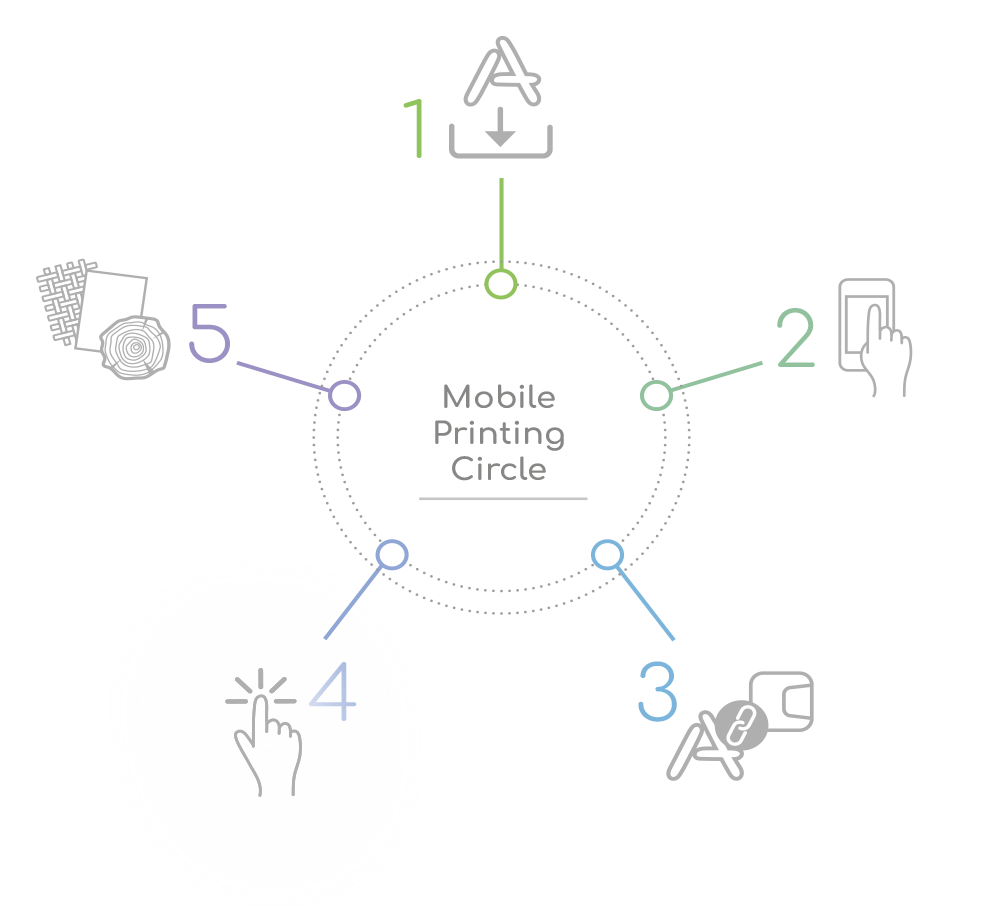 How to use the e-mark® go
DOWNLOAD FREE app for iOS or Android
DESIGN AN IMPRINT or choose from many predefined templates in the app
CONNECT APP with the e-mark go
SEND THE IMPRINT with one click from the app to the printer
LET'S PRINT on almost any absorbent surface directly or on labels
Bullet Journaling
The e-mark go is the perfect tool for creating unique bullet journals. Like no other tool, this mobile printer turns a plain white journal page into a piece of art in seconds. You can print directly into your journal or create beautiful tags and stick them in.
Ribbon Printing
With the help of the Ribbon Guide, the e-mark go prints your individual design on ribbons. We even offer a specially coated ribbon which makes the imprint water resistant. Make ribbons for flower bouquets, create your own extraordinary shoe laces for your sneakers or design a strap for your mobile phone case. The e-mark go opens up many possibilities to bring colour and individuality into your lifestyle.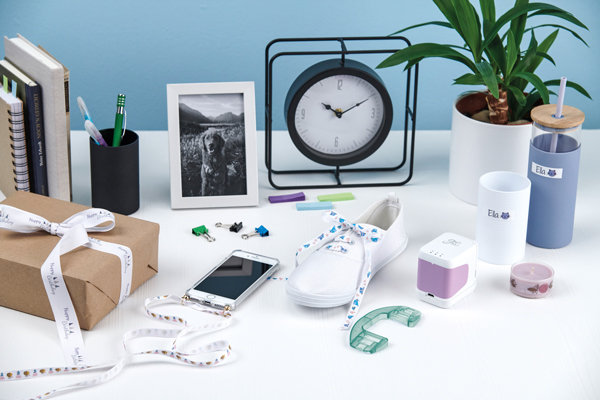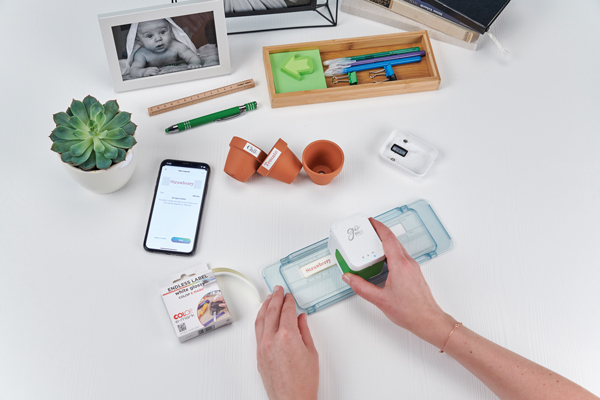 Label Maker
Use our endless label collection to create several labels with just one swipe. Choose between white, transparent or textile labels which can be ironed on garments to make the imprint washing resistant.
Sign and Tag Printing
The e-mark go, besides so many other possibilities, is a sign and tag printer. The Ruler helps you to perfectly position the imprint on these narrow surfaces.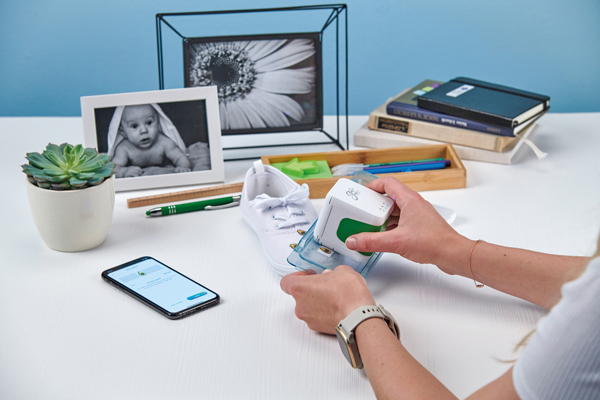 Printing on Textiles
Print directly and in full colour on your sneakers made of textile material. With a few swipes you create your unique sneaker design which guaranteed nobody else has. Use a fixation spray to make the imprint waterproof.
Printing on almost every absorbing surface
Print on wood, textiles, cork, stone, feather. So many possibilities.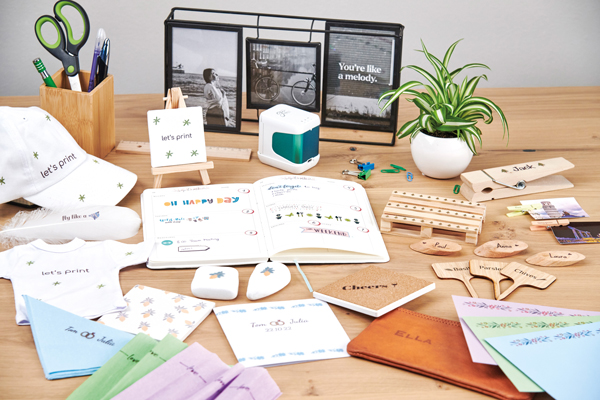 The editor - the beating heart of the app
The editor of the completely newly developed app gives you the opportunity to get really creative. In the editor, you design your imprint motifs by intuitive gestures of your fingers. You can upload image data from your gallery (jpg and png), insert pre-installed cliparts, write and design texts, insert objects and much more.
Accessories and Consumables
Software
The e-mark go is available for phones and tablets on Android and iOS.
Instructions
All instructions and product data sheets for the accessories can be found in our Help Centre.
Templates
In the app, you will find some templates, which you can print immediately or change to your liking. Besides, you can access our template & clipart store to download and purchase additional designs. Create an account in the app to synchronise your imprints and get access to the template & clipart store.
Technical specifications
Create imprints with the free app for iOS and Android
Ink cartridge C2: suitable for up to approx. 1,500 imprints; tri-colour cartridge (CMY) for printing any colours in a reliable high quality
Mobile multi-colour printing, directly on various absorbent surfaces, inkjet, 600 dpi
Maximum size of the imprint: height 14.5 mm and length 150 mm (5.9" x 0.57")
Battery life of 4 hours (when printing continuously)
Battery: Li-Ion 7.4 V, 800 mAh
Data transfer: Wi-Fi
Weight of device without packaging: 178 g
Ready-to-use templates
Template & clipart store for additional designs (also free ones available)
Upload logos and images and print them easily (jpg or png)
Full range of accessories available
Made in Austria
Questions & Answers
Which materials can I print onto with the e-mark go?
The e-mark go can print directly on almost all absorbent surfaces. Different sorts of paper, cardboard, envelopes, gift bags, untreated wood, fabrics, ribbons, cork, stone, cement, unglazed ceramics and many more can easily be printed with the e-mark go. Some surfaces provide a better imprint results than others. For non-absorbent materials, try our label range. Find a full list of recommended materials here!
Which kind of colour/ink does the e-mark go use?
The e-mark go is based on inkjet technology. The standard ink cartridge in the e-mark go is a 3-colour cartridge (CMY), any colour combinations can be printed with the e-mark go. It was especially developed by HP Inkjet Technology for mobile printing purposes. The e-mark go can only be used with original COLOP e-mark cartridges. With one cartridge, you can print around 1,500 imprints. In addition to the standard cartridge, a Black Pigment ink and UV ink are available.
Are templates available in the app?
In the app, you will find some first templates, which you can print immediately or change to your liking in the editor. If you register in the app, you can also access our template and clipart store where you will find additional designs to various topics. There are also some free templates and clipart.
Can I create my own designs?
Yes, of course! In the app, you can create your own designs as you like. Add own images in PNG or JPEG, clipart from the app, add texts and change their colour, size, font style and much more.
More information?
For more information visit our Help Center!
We found other products you might like!