Each Cleany set includes a stamp with built-in ink pad with dermatologically tested Cleany stamp ink and the original Cleany scented soap.
Find a dealer close to you!
The product contains a stamp with cover, an integrated ink pad and a soap.
Up to 3,000 impressions or 5-6 impressions per day x 500 days.
The stamp can also be used to stamp on absorbent surfaces such as paper.
The soap is produced by one of the oldest and most renowned soap manufacturers in Europe (Belgium) and complies with the EU Cosmetics Regulation.
Depending on skin type, 4 to 6 thorough hand washes are required.
Each Cleany stamp comes with a dermatologically certified stamping ink. CO2-neutral produced in Europe.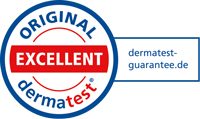 ---
Motivational stamp for clean childrens´ hands
The stamp, the soap along with the cleany hand washing song and video, washing hands several times a day becomes a daily highlight.
Children are playfully made conscious of the importance of good hand hygiene.
Each cleany set includes a stamp with built-in ink pad with dermatologically tested stamp ink and a wonderfully scented soap, made from a belgium soap manufactury.

How it works:
Remove the protective cap from the stamp in the morning after getting up. Stamp the motif on the back or palms of your hands..
Dab lightly and leave to dry. Wash your hands several times a day with plenty of soap and warm water.
Before you go to bed, make sure that all imprints on your hands are gone.
Be a little hero and protect yourself, your family and friends from some nasty viruses. In many cases, these are transmitted through skin contact and can make people sick. Washing your hands thoroughly with soap and warm water is therefore very important. The cute stamp on your hand reminds you to clean your hands several times a day.
We found other products you might like!