Certificates & Awards
Documents for COLOP's quality standards and services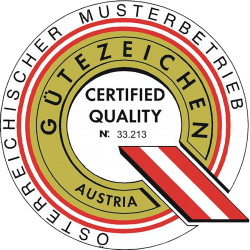 Austria Quality Seal
The Austria Quality Seal for Austrian Model Companies is awarded to different kinds of businesses and entitles them to display the quality association's seal. Like other models encouraging the continuous improvement of corporate quality (such as ISO certification and the EFQM Excellence Model), this seal gives companies a means of demonstrating that they perform at an exceptional level.
Austrian State Award
Austrian State Awards are presented by the Austrian Minister for the Economy to companies which have made a significant contribution to the Austrian economy through their outstanding achievements. The award entitles companies to use the Austrian coat of arms alongside a statement explaining that they are a holder of the award on business correspondence, printed materials and documents bearing their company name, for example.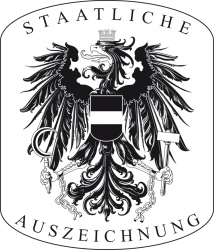 The Austrian Eco-Label
The products of the "Green Line" have been awarded the Eco-Label of the Republic of Austria by the Ministry for Climate Protection, Environment, Energy, Mobility, Innovation and Technology.
Products that receive this award meet strict environmental criteria, which are verified by an independent general evaluation.